abxylute
Regular price
Sale price
$209.00
Unit price
per
Sale
Sold out
*Estimated delivery in Jun 2023
Share
Hardware

CPU: MT8364
RAM: LPDDR4 4GB
ROM: 32GB, 64GB
Display: 7inch, 1920*1080, 16:9, 60Hz
Touch screen: multi-touch, 10 points
WLAN: 802.11 a/b/g/n/ac, support 2T2R MU-MIMO Wi-Fi
Bluetooth: Support
Speaker: Support, dual speakers
Mic: Support, dual mic
G-sensor/gyroscope: Support
Light-sensor: Support
Vibration Motor: Linear Z-axis Motor*2
Power: 15W, 5V 3A
Battery: 5200mAh
Interface: Type-C.3.5mm headphone jack.Micro SD Card
Body keys: Volume key, power key
Overall size: ~250mm*115mm*30mm
Software

Operating System: Android 12
Language Support: Multi-language
Input method: Standard Android input method
Google services: Support
OTA: Support
What's in the box

1. Environmentally friendly packaging


2. Abxylute handheld computer


3. Protective bag


4. USB-A to USB-C 3A cable (1 meter long)


5. User's manual
Support

For any questions regarding our products or for assistance with your order, you should get a response within one business day. If you are emailing about your order, please make sure to include the order number or the email address used at checkout in your message. 

 

Please contact us through the following ways:

Customer service: hi@abxylute.com, Mon-Sat 9am-5pm CST

Marketing: marketing@abxylute.com, Mon-Fri 9am-5pm CST
Warranty Policy

1)abxylute products are entitled with 12 months warranty service, starting the date when the product is received.


2)We provide customer support for non personal damage and hardware problems.

3)For product damage caused by customers, you can still contact us through: support@abxylute.com, and we will provide you with further assistance. However, customers may need to bear related costs such as freight and spare parts.
View full details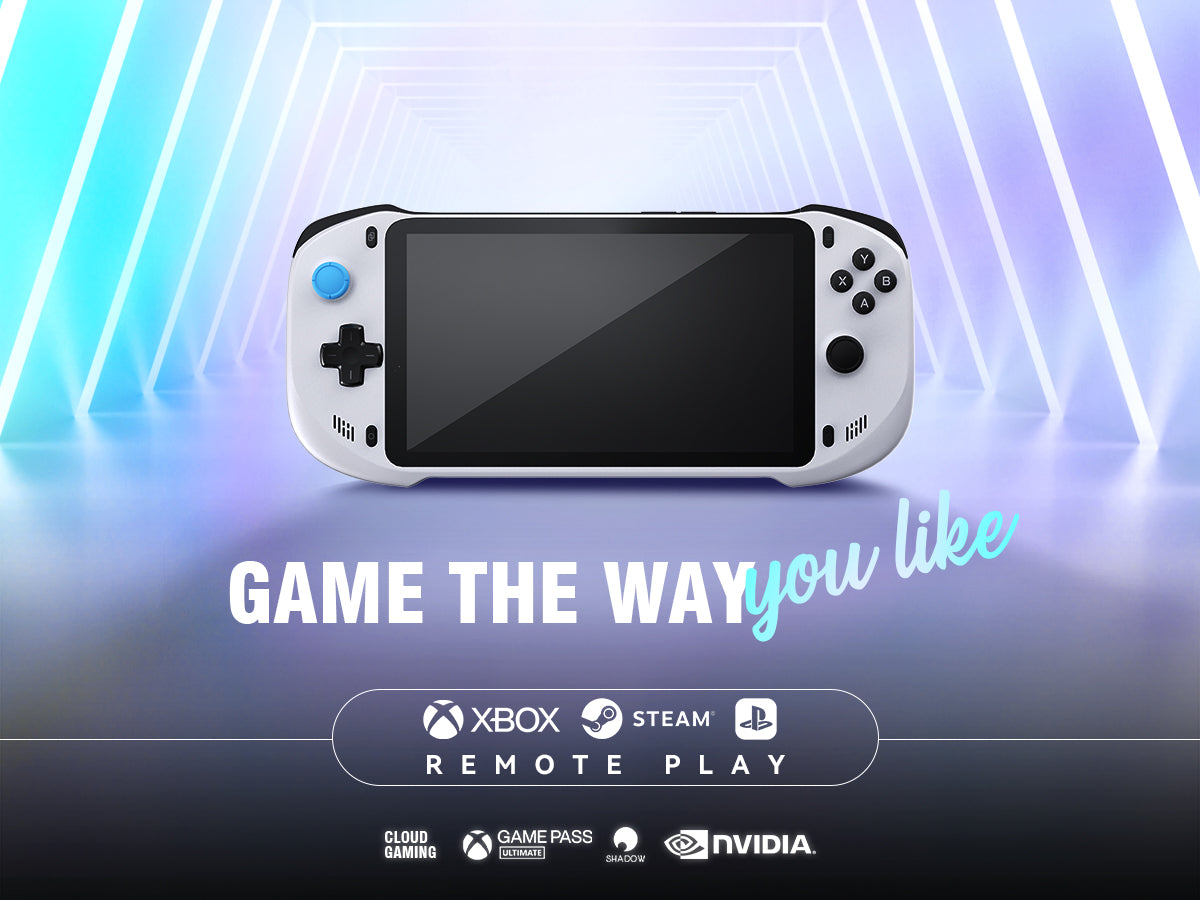 Part 1. One-Stop Game
✔️ If you don't have gaming hardware, AAA masterpieces are wonderful. But usually you will need high-performance gaming hardware to have it at its best. Now with abxylute, you can get access to AAA titles with 60 FPS perfomance via cloud gaming.
Xbox Game Pass

abxylute + Xbox Game Pass lets you try over 200 new games on abxylute from the cloud. Unlimited play for Fortnite, Halo Infinite, Forza 5 at no additional cost to you. Subscribe only when you need it.

GeForce NOW

abxylute + GeForce NOW gives you the ultimate hardware-free solution to play over 1500 games on the powerful RTX 4080.
✔️ With console/PC - If you have gaming hardware, stream any games you already own to your PC/Xbox/PlayStation for more comfortable play.
Whether you are a PC gamer, a Playstation loyalist or you want to try new titles with Xbox Game Pass, you can play your favorite titles remotely on abxylute. Play your favorite titles remotely on abxylute. You can extend your gaming session from your current environment to any location with a wifi connection.

Play without feeling completely isolated from your family. No need to fight for time to watch TV, just relax anywhere with a dedicated handheld.
Part 2. Construction of a solid console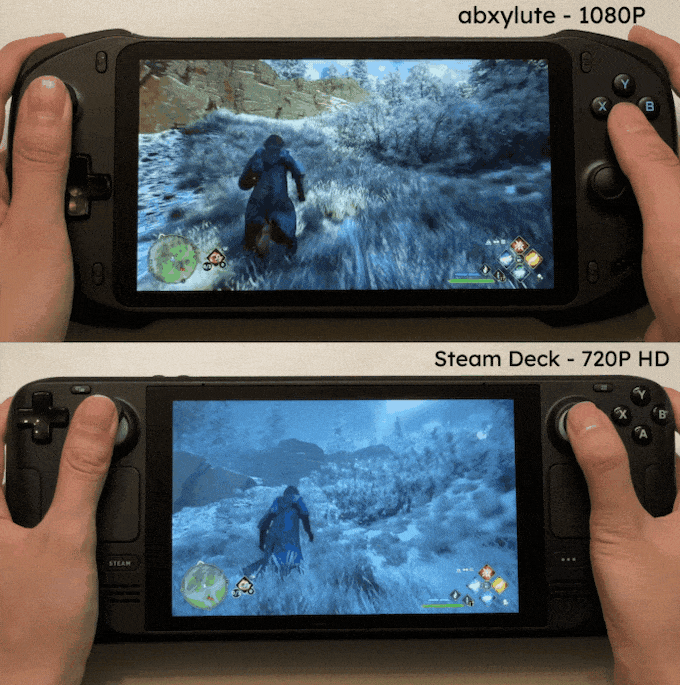 The best screen
Immerse yourself in your games with the abxylute display. It delivers smooth gameplay in 1080p with stunning graphical detail on its 7-inch 16:9 display for an unparalleled visual presentation.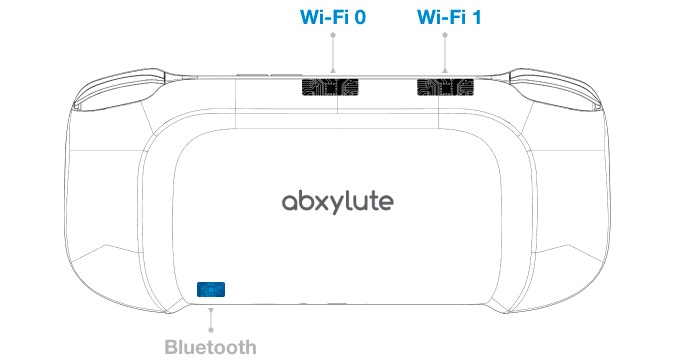 Low latency
Enjoy uninterrupted play with our 2T2R MU-MIMO Wi-Fi technology, specially optimized for streaming. abxylute gives you better connectivity without dead spots.
Precise controls

- From the layout of the buttons to the d-pad, the controller was designed to comfortably fit the habits of gamers. At every stage of the design process, we focused on creating a handheld device that is intuitive and natural to use, tested and verified by many experienced gamers.
- Adjustable Hall sensor joysticks and triggers

Test the Dpad

Superior ergonomics

Our commitment to quality and attention to detail is evident in every aspect of the abxylute handheld design. Through numerous iterations and rigorous testing with gamers, we've perfected features such as a non-slip back for a comfortable grip, offset abxy buttons and a straight joystick for unobstructed play.
Part 3. The ultimate experience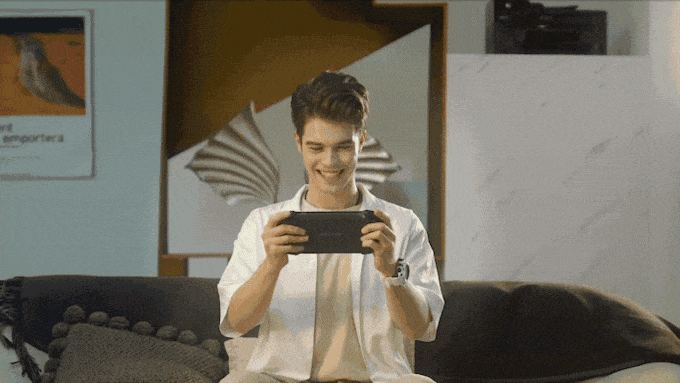 Pick-up-n-Play
Expand your gaming options from hours of sitting in front of a PC or TV screen to other possibilities.
Stay on the bed with a cozy blanket, or pull your abxylute out of your pocket when you're waiting in a café. The flexibility of abxylute allows you to emerge victorious in any game scenario.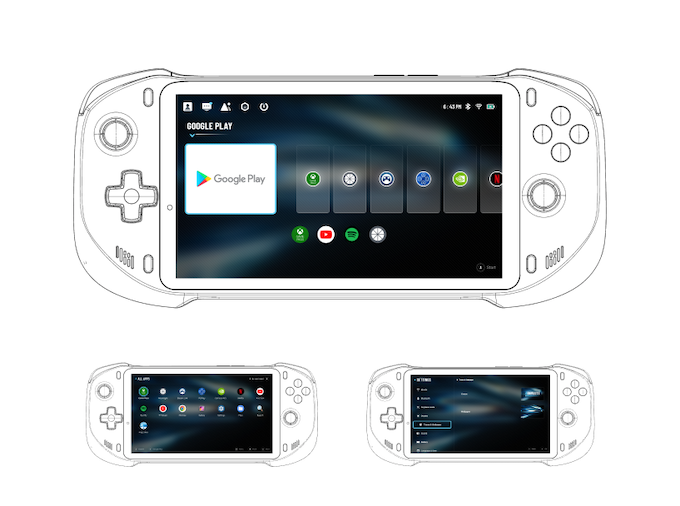 Integrated launcher
abxylute has a built-in launcher that allows for quick start-up and easy navigation through your favorite games. With just a few clicks, you can start playing your favorite titles immediately.

We offer continuous support through OTA updates, ensuring that your abxylute console stays up to date with the latest software improvements and features.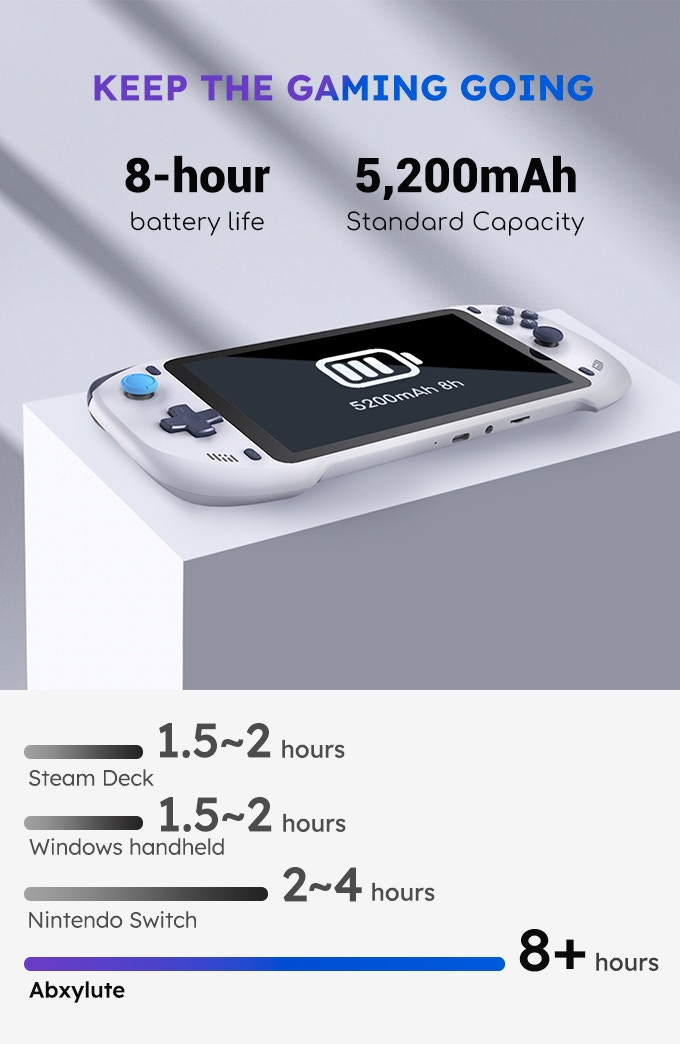 8 hours autonomy
Tired of having to recharge after only 2 hours? Abxylute's epic battery life can last for 8 hours of uninterrupted play with your favorite titles. Say goodbye to charging anxiety.
Light, quiet and cool
At only 430g, the abxylute fits perfectly in your palms thanks to the ergonomic curve of the console, reducing fatigue and ensuring long hours of comfortable play.

Plus, with remarkably quiet operation and minimal heat dissipation, you can enjoy a truly immersive gaming experience every time.